Modern Facility & Equipment
Our modern American-style eye center has high-tech diagnostic equipment capable of early detection and treatment of eye conditions such as cataract, diabetic eye disease, glaucoma and retinal diseases.
Medical Clinic:
Monday - Friday 8AM to 5PM
Saturday 8AM to 12 Noon
Optical Shop:
Monday - Thursday 8:30AM to 7PM
Friday - Saturday 8:30AM to 8PM
Sunday 11AM to 8PM
American Eye Center's eye specialists are internationally-trained professionals with extensive experience. Our team delivers excellent and comprehensive eye care for your entire family.

Eye Specialists in Ho Chi Minh
Customer Satisfaction
"When I began to lose sight from cataracts,
I chose Dr. Nam Tran to perform the surgery here
in VN, and I am delighted with the results."
Dr. Wade Brackenbury
Ho Chi Minh City
Read all American Eye Center's Reviews
New eyedrop promising to cure need for reading glasses
Reading glasses or bifocals are the sure early signs of aging eyes, afflicting almost everyone after age 40.
Early research results of a medicated eye drop EV06 showed improved near focus in treated patients compared to placebo. The medication acts to reverse the hardening of the natural lens, improving its flexibility and restoring its ability to "auto-focus" at near distance.
AEC nurses are Certified Ophthalmic Assistants (COA)
Congratulations! All of our nurses were the first in SE Asia to pass the US Certified Ophthalmic Assistant certification exam given by the US Joint Commission on Allied Health Personnel in Ophthalmology (JCAHPO). Our COA professional nurses are dedicated to providing you with highest level of care.
LASIK is a very successful and safe procedure intended to reduce dependency on eyeglasses or contact lenses, and to improve quality of life.
A cataract is a clouding of the natural lens inside the eye and is the most common cause of vision loss. Modern cataract surgery with lens implantation is highly successful, restoring vision for daily living...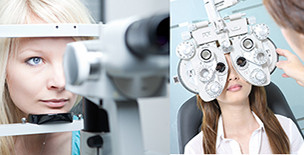 Map/Directions
To reach us, take the Nguyen Van Linh Parkway to Phu My Hung, District 7. At the intersection of Nguyen Van Linh Parkway and Nguyen Luong Bang street, turn toward the Convention Center and Paragon Parkson shopping center. Across from Paragon Parkson, follow the signs to turn into the Crescent complex.
Our building is the Crescent Plaza, 105 Ton Dat Tien Street. Thai Express Restaurant is on the ground floor. Take elevator to our clinic on the 5th floor.
There are convenient and plentiful parking for cars and motorbikes in the buildings' basement levels or on the street.