Modern Facility & Equipment
Our modern American-style eye center has high-tech diagnostic equipment capable of early detection and treatment of eye conditions such as cataract, diabetic eye disease, glaucoma and retinal diseases.
-High quality eye wear, great selection
-Authentic brands, stylish and dependable
-Latest lens technology from Zeiss
-Professional optometrist, personalized care
-Contact lenses from Japan, Australia
-Free adjustments, minor repairs, cleaning
American Eye Center's eye specialists are internationally-trained professionals with extensive experience. Our team delivers excellent and comprehensive eye care for your entire family.
Customer Satisfaction
"When I began to lose sight from cataracts, I chose Dr. Nam Tran to perform the surgery here in VN, and I am delighted with the results."
Dr. Wade Brackenbury
Ho Chi Minh City
PRELEX: a permanent solution for "aging eyes" (presbyopia)
Watch our new video explaining dysfunctioning lens syndrome and PRELEX.
PRELEX is a fast, painless, effective and safe procedure to improve your vision and eliminate need for reading glasses. Watch video
Dr Nam Tran on FBNC SmartLife
Watch Dr Nam Tran Pham discuss how to take care of your eyes and advances in modern eye surgery to help you and your family achieve "Better Vision for Life". The 12-part special program on FBNC airs on 23 September until end of November, with one new segment every weekend. Watch video
Is your child's nearsightedness increasing too fast?
Myopia (nearsightedness) is reaching alarming rates and its progression can lead to long-term risk for severe eye problems such as retinal detachment. There are now treatment methods to control the worsening of myopia, including specialized glasses, Ortho-K contact lenses and Atropine eye drops. Read more
LASIK is a very successful and safe procedure intended to reduce dependency on eyeglasses or contact lenses, and to improve quality of life.
A cataract is a clouding of the natural lens inside the eye and is the most common cause of vision loss. Modern cataract surgery with lens implantation is highly successful, restoring vision for daily living...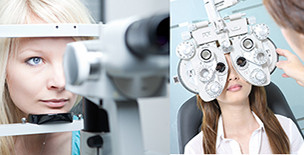 Map/Directions
To reach us, take the Nguyen Van Linh Parkway to Phu My Hung, District 7. At the intersection of Nguyen Van Linh Parkway and Nguyen Luong Bang street, turn toward the Convention Center and Paragon Parkson shopping center. Across from Paragon Parkson, follow the signs to turn into the Crescent complex.
Our building is the Crescent Plaza, 105 Ton Dat Tien Street. American Eye Center Optical shop is on the ground floor. Take elevator to our Eye Clinic on the 5th floor.
There are convenient and plentiful parking for cars and motorbikes in the buildings' basement levels or on the street.