What is diabetes? How does diabetes affect your vision?​
1. What is diabetes ?
Diabetes is a chronic (long-lasting) health condition that affects how your body turns food into energy.
If you have diabetes, your body either doesn't make enough insulin or can't use the insulin it makes as well as it should. When there isn't enough insulin or cells stop responding to insulin, too much blood sugar stays in your bloodstream. Over time, that can cause serious health problems, such as heart disease, vision loss, and kidney disease.
Common symptoms:
- Extreme fatigue and feeling very hungry
- Urinating often and feeling very thristy
- Blurry vision
- Weight loss – even though you are eating more
- Tingling, pain, or numbness in the hands/feet
2. How does diabetes affect your eyes ?
When suffering from diabetes, the patient will have symptoms of blurred vision, decreased vision. This is because high blood sugar causes the eye lenses to become swollen, which changes your vision.
Diabetes is one of the leading causes of blindness worldwide.
The longer a person suffers from diabetes, the greater the chance he or she has for developing diabetic eye disease. In fact, 80% of patients who have diabetes will develop eye problems after 10 or more years.
Unfortunately, up to 50% of diabetics remain undiagnosed and untreated, and about 30% of patients already have their eyes affected by the time they are first diagnosed with diabetes.
The current international guidelines recommend an eye exam at least once a year for every diabetic patient to screen for diabetic retinopathy since treatments are most effective when used early.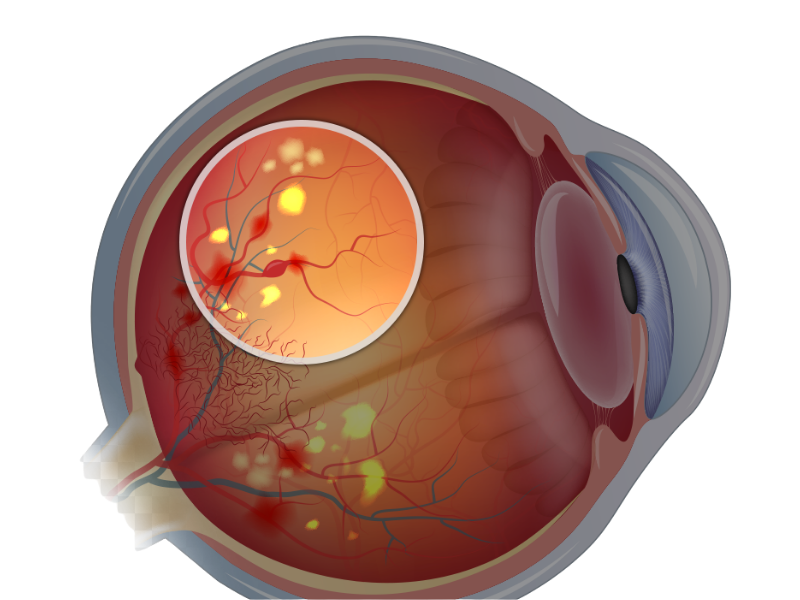 3. Where should I examine / treat diabetic retinopathy?
At American Eye Center, we can prevent up to 90% of cases of blindness by following the latest treatment protocols for diabetic retinopathy with medications, injections, and laser surgery.
Diabetic eye disease specialist:
Doctor Kelvin Wong
- Ophthalmologist, American Eye Center Vietnam
- Consultant, Diabetic eye disease and ocular inflammation (UK National Health Service) -Consultant, Singapore National Eye Centre
- Lecturer at the medical universities in Scotland and in Singapore
- More 20 years of professional experience.
At American Eye Center (AEC), we offer more than world class specialists and technology to take care of your eyes. We believe in providing eye care based on scientific evidence and ethical practice, combined with individualized attention to achieve the best possible treatment outcome.
You can have the peace of mind that you are in our caring, responsible and knowledgeable hands.
To schedule an appointment: (28) 5413 6758 or 0938 136 758
Address: 5th Floor, Crescent Plaza (Phu My Hung), 105 Ton Dat Tien Street, District 7, HCMC