Modern Facility & Equipment
Our modern American-style eye center has high-tech diagnostic equipment capable of early detection and treatment of eye conditions such as cataract, diabetic eye disease, glaucoma and retinal diseases.
Medical Clinic:
Monday - Friday 8AM to 5PM
Saturday 8AM to 12 Noon
Optical Shop:
Monday - Thursday 8:30AM to 7PM
Friday - Saturday 8:30AM to 8PM
Sunday 11AM to 8PM
American Eye Center's eye specialists are internationally-trained professionals with extensive experience. Our team delivers excellent and comprehensive eye care for your entire family.

Eye Specialists in Ho Chi Minh
Customer Satisfaction
"When I began to lose sight from cataracts,
I chose Dr. Nam Tran to perform the surgery here
in VN, and I am delighted with the results."
Dr. Wade Brackenbury
Ho Chi Minh City
Read all American Eye Center's Reviews
Taking fish oil supplements help dry eye
While artificial tears are a common treatment for dry eye, studies suggest consuming omega-3 fatty acid supplements may also provide relief. Omega-3 oils appear to improve function in the eye's meibomian glands, which produce the oily part of tears.
Talk to your doctor to find out whether omega-3 supplements and other dry eye treatments are right for you.
Reap the harvest of Fall's eye-friendly foods
Autumn's bounty is a feast for healthy eyes. Full of antioxidants like vitamin C, vitamin A and other nutrients, enjoy the season's fruits and vegetables, such as:
Apples, Pears, Pomegranates, Squash, Turnips, Cauliflower.
November is World Diabetes Awareness Month
Get your eyes checked today
Over 1/3 of people with diabetes will develop vision loss.
Regular eye exam can provide early detection and treatment to prevent blindness.
We specialize in diabetic eye disease treatment.
LASIK is a very successful and safe procedure intended to reduce dependency on eyeglasses or contact lenses, and to improve quality of life.
A cataract is a clouding of the natural lens inside the eye and is the most common cause of vision loss. Modern cataract surgery with lens implantation is highly successful, restoring vision for daily living...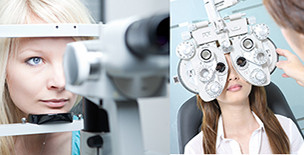 Map/Directions
To reach us, take the Nguyen Van Linh Parkway to Phu My Hung, District 7. At the intersection of Nguyen Van Linh Parkway and Nguyen Luong Bang street, turn toward the Convention Center and Paragon Parkson shopping center. Across from Paragon Parkson, follow the signs to turn into the Crescent complex.
Our building is the Crescent Plaza, 105 Ton Dat Tien Street. American Eye Center Optical shop is on the ground floor. Take elevator to our Eye Clinic on the 5th floor.
There are convenient and plentiful parking for cars and motorbikes in the buildings' basement levels or on the street.